For Immediate Release: December 8, 2022
SACRAMENTO –The California Energy Commission (CEC) recognized six courageous leaders today, presenting them with the Commission's 2022 Clean Energy Hall of Fame Award for their exceptional work in helping California achieve a 100 percent clean energy future for all.
The Clean Energy Hall of Fame is an annual event, and this year's winners were recognized at a ceremony at the California Natural Resources Agency Auditorium.
"Today we recognize appropriately, six people in particular who are doing the real work to change the very landscape of energy and our environment," said California Governor Gavin Newsom. "Each of their stories reminds us of the opportunities each of us have right now, no matter our age or profession, to make a difference."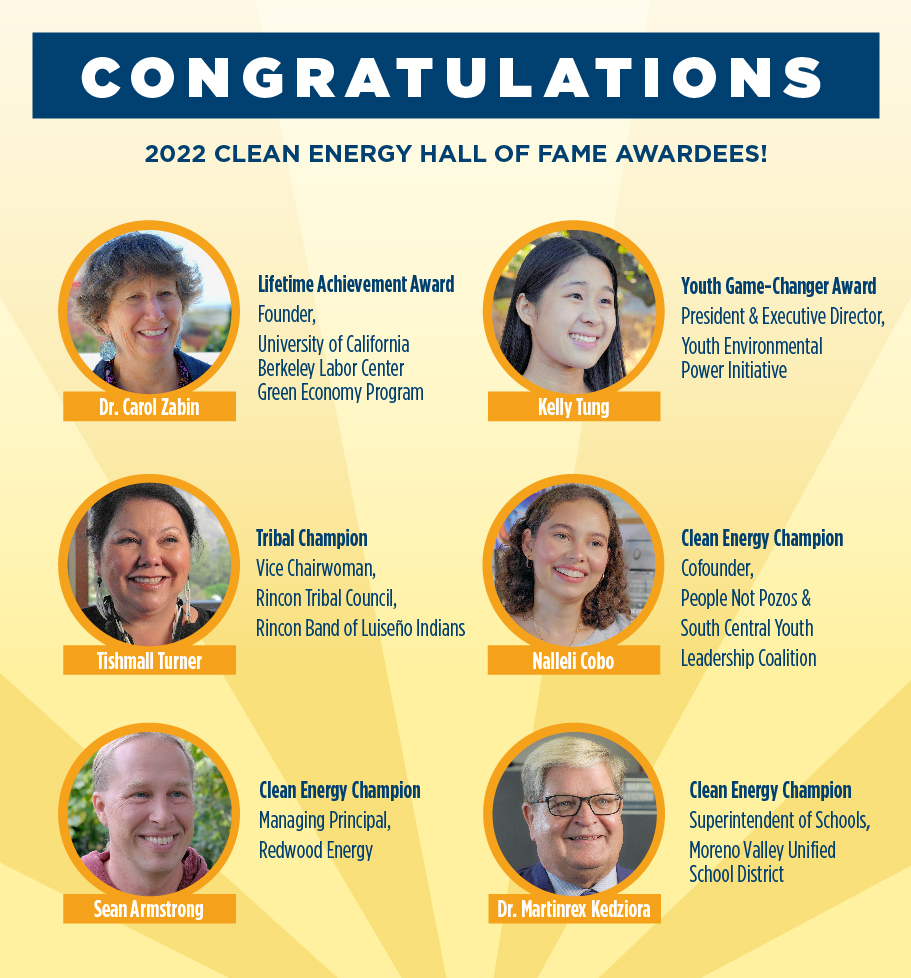 Short summaries of the awardees are below:
Lifetime Achievement Award
Dr. Carol Zabin founded the University of California Berkeley Labor Center Green Economy Program. She received the Lifetime Achievement Award, which recognizes an individual with at least 20 years of experience advancing clean energy who is considered a leader in their community and has had a significant positive impact on California and environmental justice communities.
The Green Economy Program provides groundbreaking research and guidance on how the state can incorporate job quality and equity into climate policy. Her career has been dedicated to helping California policymakers recognize that workers and their unions are vital in the transition to a low-carbon future and that climate investments are more effective with labor standards and good labor practices.
Youth Game Changer Award
Kelly Tung, president and executive director of the non-profit Youth Environmental Power Initiative (YEPI), received the Youth Game Changer Award. The award recognizes an individual 18 years of age or younger, or a leader of an organization focused on working with youth who are helping to advance California toward a clean energy future through innovative methods and inspiring a new generation of energy experts, entrepreneurs, and leaders to change the game.
The high school senior from Cupertino started YEPI  to empower and mobilize youth on climate change through legislative advocacy and community engagement. Her organization has implemented environmental justice programs training participants to analyze how environmental quality problems disproportionately affect disadvantaged communities.  
Tribal Champion Award
Tishmall Turner, vice chairwoman of the Rincon Tribal Council of the Rincon Band of Luiseño Indians, was selected for the Tribal Champion Award. The award recognizes an individual who is a tribal member, tribal employee, or a person that works for a tribe who has advanced a clean energy future by combating climate change through innovative projects, long term service, dedication to implementing technology, or has served in a key coordinating role that has led to more equitable outcomes and/or transformational change for tribes or tribal communities in California. 
She is the tribe's first chair of the Rincon Energy Commission and has led the development of multiple microgrids on the Rincon Reservation. Turner is working to increase clean energy use for the tribe while reducing overall energy costs. Her tribal advocacy merges her modern vision beyond the reservation with a passion for her culture and her identity as a tribal woman.
Clean Energy Champions
Three Clean Energy Champions were honored for contributing to California's clean energy future through their bold moves, leadership, and innovative ideas, while helping transform communities in California through more equitable outcomes.
Sean Armstrong, Managing Principal of Redwood Energy
Armstrong is the managing principal of Redwood Energy, an all-electric affordable housing design firm based in Arcata. Between 2007 and 2020, he led North America in designing one in four zero-net-energy residences including nearly half of those developed in California. His environmental and social activism is informed by his struggles growing up as queer. The decarbonization advocate has coauthored guides on building electrification, provided technical support to more than 60 municipal natural gas bans nationwide and municipal methane bans in California, and helped develop retrofit-ready heat pumps to lower costs and barriers to building electrification.
Nalleli Cobo, Cofounder of People Not Pozos (People Not Wells) and South Central Youth Leadership Coalition (SCYLC)
Cobo is a 21-year-old cancer survivor who cofounded People Not Pozos to secure safe and healthy neighborhoods and cofounded SCYLC to fight environmental racism. She launched her activism as a 9-year-old after enduring debilitating illnesses associated with an oil well across from her South Los Angeles home. She mobilized a grassroots movement to eradicate oil sites, which included suing the city of Los Angeles for permitting oil drills disproportionately in Latino and African-American communities. The successful lawsuit paved the way for city- and countywide policy changes on oil extraction, phasing out the largest urban oil field in the country.
Dr. Martinrex Kedziora, Superintendent of Schools of the Moreno Valley Unified School District
Dr. Kedziora leads an urban school district serving about 32,000 mostly Latino and African-American students. During his 40-year career in education, he has worked to advance diversity and equity to ensure all students succeed. The district is transitioning its school buses to clean energy sources with 42 of the 177 in its fleet becoming electric, the largest transition of its kind in California. This effort has been a passion project for him because Moreno Valley is a community with poor air quality.
To watch videos of Governor Newsom's remarks and learn more about the awardees' stories, view the CEC's YouTube playlist:
###
About the California Energy Commission
The California Energy Commission is the state's primary energy policy and planning agency with a passion to lead the state to a 100% clean energy future for all. It has seven core responsibilities: advancing state energy policy, encouraging energy efficiency, certifying thermal power plants, investing in energy innovation, developing renewable energy, transforming transportation, and preparing for energy emergencies.