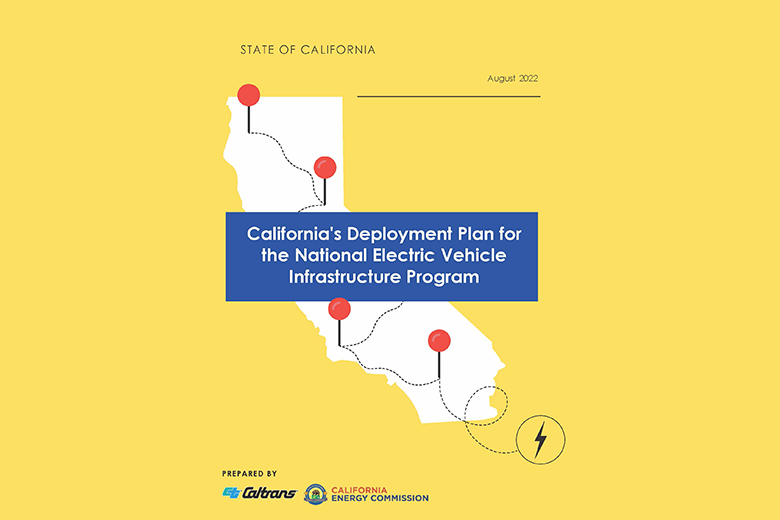 NEW! California's 2023 NEVI Deployment Plan was approved on September 29, 2023.
The $5 billion NEVI Formula Program is part of the $1.2 trillion Infrastructure Investment and Jobs Act (IIJA) signed into law by President Biden in November 2021. IIJA commits significant federal funding to clean transportation and energy programs throughout the U.S. to reduce climate changing greenhouse gas emissions. The California Department of Transportation (Caltrans) is the designated lead agency for NEVI. The CEC is their designated state energy partner. Caltrans and the CEC have partnered to create California's Deployment Plan for the National Electric Vehicle Infrastructure Program that describes how the state plans to allocate its $384 million share of federal NEVI funds to build out a network of modern, high-powered DC fast chargers along federally designated Alternative Fuel Corridors throughout California. California's latest NEVI Deployment Plan was submitted to the Joint Office of Energy and Transportation on August 1, 2022 and approved on September 14, 2022. The Plans must be updated each year over 5 years.
NEVI funds must be used initially on federally-designated Alternative Fuel Corridors. See the map showing California's Alternative Fuel Corridors.
Each NEVI-funded DC fast charge station will have a minimum of four 150 kW Combined Charging System (CCS) connectors and a minimum total station power of 600 kW. Stations will be located no more than 50 miles apart along freeways and highways and no more than 1 mile from a freeway exit or highway roadway. States are required to emphasize equity, with at least 40 percent of NEVI benefits going to disadvantaged, low income, rural and tribal communities. 
The CEC will manage the funding solicitations, or Grant Funding Opportunities (GFO) on behalf of the State. The first GFO planning workshop was held on September 7 and 8, 2022 and the first solicitation is planned for release in Q4 2023. 
No events are available at this time.