For Immediate Release: November 3, 2022
Sacramento – A $31 million grant from the California Energy Commission (CEC) will be used to deploy a cutting-edge, long-duration energy storage system that will provide renewable backup power for the Viejas Tribe of Kumeyaay Indians and support statewide grid reliability in the event of an emergency.
The project, which is funded by one of the largest state grants ever awarded to benefit a tribal government, will demonstrate the performance and potential of long-duration energy storage systems as California works to achieve 100 percent clean electricity.
The 60-megawatt-hour long-duration system is one of the first of its kind in the country. The project will provide renewable backup power to the Viejas community in the event of local outages and provide the opportunity for the tribe to shift electricity use away from the statewide electrical grid during calls for conservation. The CEC awarded the grant to Indian Energy LLC, a privately held Native American-owned microgrid developer who will build the project on the tribe's behalf.
"This solar microgrid project will enable us to create a reliable and sustainable source of clean energy for our gaming, hospitality, and retail operations going forward. In turn, the associated non-lithium battery system supports the environmental protection and cultural stewardship of our ancestral land, thereby ensuring the vibrant future of our children," said Viejas Band of Kumeyaay Indians Chairman John Christman. "We are proud to stand shoulder to shoulder with the California Energy Commission (CEC) and Indian Energy in the development and implementation of this forward-thinking technology for the collective betterment of our great State, and the nation at large. We are appreciative of the CEC's financial support, and for the foresight and planning of the Governor's Office, and his personal commitment towards the advancement of clean energy solutions. As a large electricity consumer, we recognize our responsibility to lead by example in lessening our burden on the electric grid, and it is our sincere hope that the demonstrated financial and environmental merits of this project will serve as a repeatable model for others."
An event was held November 3 to celebrate the grant at the tribe's facilities about 35 miles east of San Diego. Event attendees included Christina Snider, tribal affairs secretary to Governor Gavin Newsom; Geneva Thompson, assistant secretary for tribal affairs for the California Natural Resources Agency; CEC Chair David Hochschild; Chairman Christman from the Viejas Tribe of Kumeyaay Indians; and Nicole Reiter from Indian Energy.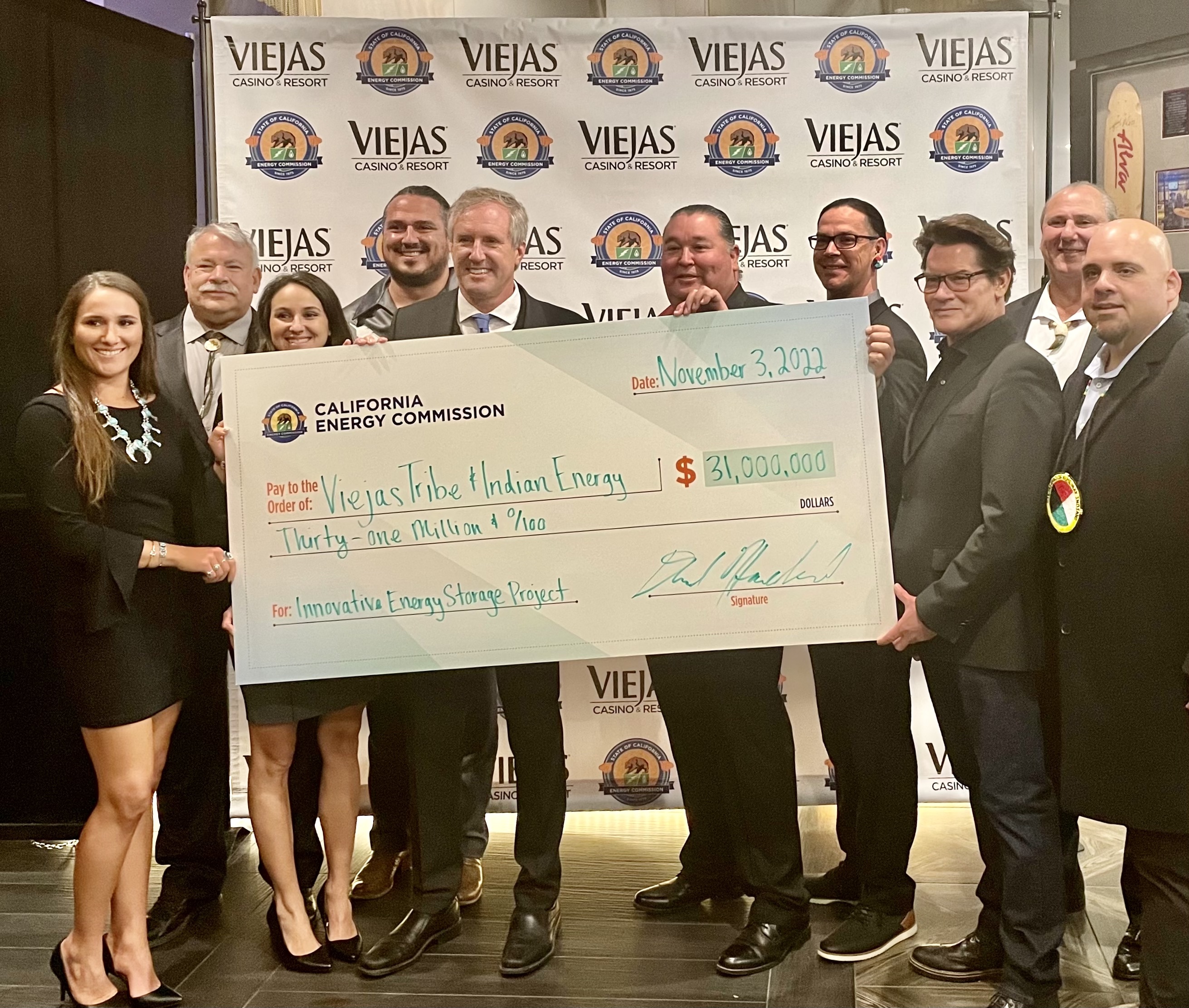 "The CEC is proud to support this unique project with the largest grant we have ever provided to a tribal community," said CEC Chair Hochschild. "Not only will it support critical operations for the tribe during wildfire-driven power outages, it can also benefit the statewide grid in the event of emergencies while supporting innovation and investment in the long-duration storage industry as this new resource becomes fully commercialized."
This is the first award under the state's new $140 million Long-Duration Energy Storage Program. The program is part of Governor Gavin Newsom's historic $54 billion commitment to fight climate change and implement world-leading measures that will cut pollution, deploy clean energy and new technologies and protect public health.  
"Indian Energy's mission is to support Indian Country on their journey toward energy sovereignty while creating a sustainable future for our seventh generation. This project continues the great partnership between Indian Energy, Viejas Band of Kumeyaay and the California Energy Commission," said Allen G. Cadreau, founder and chief executive officer of Indian Energy. 
Energy storage is essential to the state's transition away from fossil fuels, absorbing excess renewable power generated during the day for use into the evening when demand peaks as the sun sets. Most storage systems today use lithium-ion battery technology, which typically provides up to four hours of energy. The Viejas Tribe project will use non-lithium long-duration technologies, which provide up to 10 hours of power. 
More than 4,000 MW of battery storage is installed in California ISO territory. The state projects more than 48,000 MW of battery storage and 4,000 MW of long-duration storage will be needed by 2045.
For more information about the event, view the following YouTube video:
California, Viejas Tribal Officials Announce $31 Million Long Duration Energy Storage Project - YouTube
###
About the California Energy Commission 
The California Energy Commission is leading the state to a 100 percent clean energy future. It has seven core responsibilities: developing renewable energy, transforming transportation, increasing energy efficiency, investing in energy innovation, advancing state energy policy, certifying thermal power plants, and preparing for energy emergencies.