For Immediate Release: October 10, 2023
SACRAMENTO — Today, 10 of the world's largest manufacturers, distributors and suppliers of building heating and cooling equipment signed an agreement committing to actions aimed at achieving California's goal to have six million electric heat pumps installed by 2030.
The announcement took place at a two-day summit hosted by the California Energy Commission (CEC) and EPRI. The event brought government leaders together with industry, academic, community partners and others to explore affordable, reliable, and equitable pathways to electrifying buildings — a key part of California's plan to achieve carbon neutrality by mid-century.
The manufacturers signing on include A. O. Smith Corporation, Carrier, Daikin, Fujitsu, Johnson Controls, Lennox International, LG Electronics, Mitsubishi Electric Trane HVAC US, Rheem Manufacturing Company, and Trane Technologies.
As part of the commitment, they agreed to:
Create the manufacturing capacity to help achieve the state's goal of installing six million heat pumps by 2030.
Ensure heat pumps are good citizens of the electric grid by enhancing efficiency and incorporating load flexibility.
Collaborate with the CEC to develop a public-private partnership to facilitate policy and market support to bring heat pumps into the mainstream.
"I applaud the vision and dedication of the 10 manufacturers who are stepping up to strengthen California's ability to deliver on our goal to install six million heat pumps," said CEC Commissioner J. Andrew McAllister, who is the lead commissioner on energy efficiency. "Partnerships with industry are critical in aligning policy and reality. This new commitment will ensure grid-friendly heat pumps are widely available and help consumers understand why they're the better choice for both comfort and the climate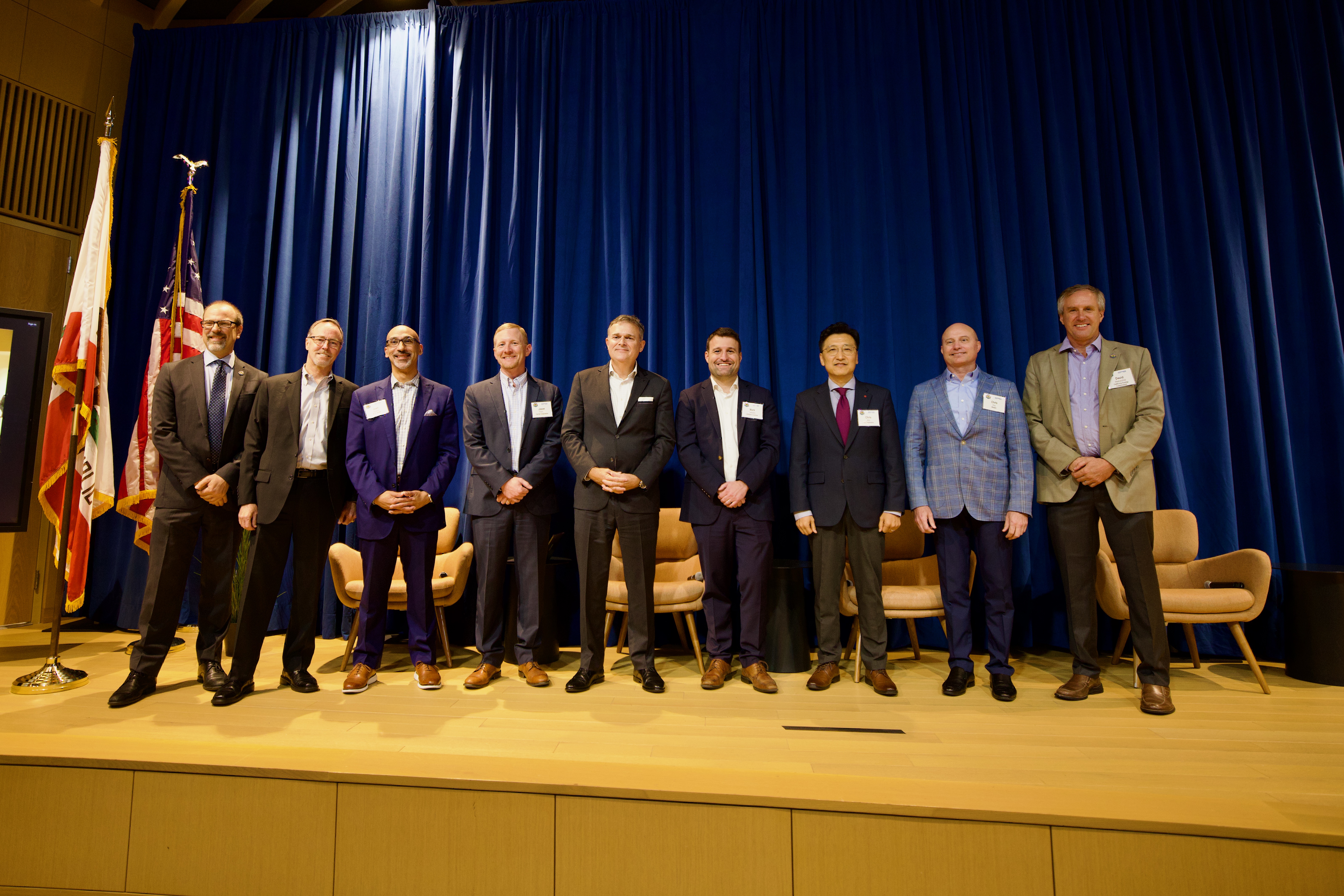 Left to right: CEC Commissioner Andrew McAllister, John J. Hurst (Lennox), Joshua C. Greene (A. O. Smith), Jason Thomas (Carrier), David Calabrese (Daikin), Mark Lessans (Johnson Controls), Chris Ahn (LG Electronics), Chris Day (Rheem), CEC Chair David Hochschild.
The pledge builds on policies and programs underway at the CEC, California Air Resources Board, California Public Utilities Commission, and Governor's Office of Business and Economic Development. The activities are supported by the California Climate Commitment and Federal Inflation Reduction Act, which combined will provide $1.5 billion for efforts to reduce emissions from buildings.
About Heat Pumps
Heat pumps are a highly efficient electric technology for water and space heating that produce fewer emissions than traditional HVACs and water heaters.
The 2022 Energy Code established heat pumps as the standard for new single-family homes.
More than 1.5 million are currently installed throughout California.
Current California market share for new single-family homes is 55 percent for heat pump space heaters and 16 percent for heat pump water heaters.
For information about rebates and loans for homeowners and renters, contractors, or local governments, visit the CEC's Building and Home Energy Resource Hub.
###
About the California Energy Commission
The California Energy Commission is leading the state to a 100 percent clean energy future. It has seven core responsibilities: developing renewable energy, transforming transportation, increasing energy efficiency, investing in energy innovation, advancing state energy policy, certifying thermal power plants, and preparing for energy emergencies.
About A. O. Smith Corporation
A. O. Smith Corporation, with global headquarters in Milwaukee, Wisconsin since 1874, applies technology and energy-efficient solutions to products manufactured and marketed worldwide with operations in the U.S., Canada, China, India, Mexico, the Netherlands, Turkey, and the UK. Listed on the New York Stock Exchange (NYSE: AOS), the company is one of the world's largest manufacturers of residential and commercial water heating equipment and boilers, as well as a leading manufacturer of water treatment and air purification products. Along with its wholly owned subsidiaries, A. O. Smith is the largest manufacturer and seller of residential and commercial water heating equipment, high efficiency residential and commercial boilers, and pool heaters in North America. For more information, visit www.aosmith.com.
About Carrier
Founded by the inventor of modern air conditioning, Carrier is a world leader in high-technology heating, air-conditioning and refrigeration solutions. Carrier experts provide sustainable solutions, integrating energy-efficient products, building controls and energy services for residential, commercial, retail, transport and food service customers. Carrier is a part of Carrier Global Corporation, global leader in intelligent climate and energy solutions that matter for people and our planet for generations to come. For more information, visit carrier.com or follow @Carrier on Twitter.
About Daikin
Daikin is a proud global HVAC&R leader, with more than 22,000 talented employees driving innovation in the U.S. – its biggest global market. As trailblazers in sustainability technology, we take on the profound responsibility of spearheading the journey toward global decarbonization and electrification. Our commitment to this cause is unwavering, underpinned by our cutting-edge core technologies. For example, our inverter technology (efficiently controlling motor speeds to eliminate wasted energy in HVAC systems), which drives our variable-capacity heat pumps use a small amount of electric power to transport heat energy that's in the air for heating and cooling and can operate at temperatures as low as -20F. For more information, please visit www.northamerica-daikin.com/.
About Fujitsu
Fujitsu General America, Inc. is a subsidiary of Fujitsu General Limited headquartered in Kawasaki, Japan. As a manufacturer of mini-splits and VRF systems, Fujitsu General America is a provider of heating and cooling solutions for every application, backed by the finest service, support, training, and programs for the United States and Canada. Fujitsu's line of high-efficiency, eco-friendly systems have been designed to provide advanced comfort solutions for residential and commercial applications. Visit www.fujitsugeneral.com for more information.
About Johnson Controls
At Johnson Controls (NYSE:JCI), we transform the environments where people live, work, learn and play. As the global leader in smart, healthy and sustainable buildings, our mission is to reimagine the performance of buildings to serve people, places and the planet. Building on a proud history of nearly 140 years of innovation, we deliver the blueprint of the future for industries such as healthcare, schools, data centers, airports, stadiums, manufacturing and beyond through OpenBlue, our comprehensive digital offering. Today, with a global team of 100,000 experts in more than 150 countries, Johnson Controls offers the world`s largest portfolio of building technology and software as well as service solutions from some of the most trusted names in the industry. Visit www.johnsoncontrols.com for more information and follow @Johnson Controls on social platforms.
About Lennox
Lennox is a leader in energy-efficient climate-control solutions. Dedicated to sustainability and creating comfortable and healthier environments for our residential and commercial customers while reducing their carbon footprint, we lead the field in innovation with our cooling, heating, indoor air quality, and refrigeration systems. For more information, visit www.lennox.com.
About LG Electronics
LG Electronics USA Inc., the North American subsidiary of global tech giant LG Electronics, is committed to enabling the electrification of America through "Innovation for a Better Life," epitomized by all-electric heat-pump HVAC systems, heat pump water heaters, heat pump clothes dryers, smart efficient appliances, induction cooktops and ranges, energy storage systems, EV chargers and more. To help accelerate market transformation, LG is expanding U.S. manufacturing for key product categories. For more information, visit www.LG.com.
About Mitsubishi Electric Trane HVAC US
Mitsubishi Electric Trane HVAC US (METUS) is a leading provider of ductless and VRF systems in the United States and Latin America. As a 50/50 joint venture between Trane Technologies and Mitsubishi Electric US, Inc., the company provides innovative products, systems and solutions capable of cooling and heating any application from a home to a large commercial building. For more information, visit www.mehvac.com.
About Rheem Manufacturing Company
Rheem is an industry leader in total heating, cooling, refrigeration and water heating solutions and one of the few global brands with product offerings covering residential and commercial heating, cooling, conventional and hybrid storage water heaters, tankless water heaters, solar water heating systems, pool and spa heaters, commercial boilers, residential hydronic and geothermal systems, commercial refrigeration products, and indoor air quality products. Rheem is headquartered in Atlanta, Georgia, with U.S. based manufacturing facilities in Oxnard, California as well as in Alabama, Arkansas, Connecticut, and North Carolina. For more information, visit www.rheem.com.
About Trane Technologies
Trane Technologies is a global climate innovator. Through our strategic brands Trane® and Thermo King®, and our portfolio of environmentally responsible products and services, we bring efficient and sustainable climate solutions to buildings, homes, and transportation. For more information, visit www.tranetechnologies.com.